Cousin Kohl Sets New Nebraska Muley Record!!!
SpringMeadows family cousin Kohl Johnson recently set the new Nebraska Mule Deer Archery record this past 2010 hunting season. Kohl was hunting his own family's ground which lies adjacent to some of SpringMeadows own hunting ground when he arrowed this monster muley!! The new record measured a massive 185 7/8 which broke the old state record of 184 6/8 set back in 1989.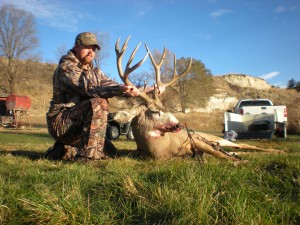 SpringMeadows looks forwards to breaking our cousins record in the very near future!! Because records are meant to be broken, right?
Congratulations to Kohl and his entire family on this great accomplishment!!!!!
For more information on this new state record, click here: New NE Mule Deer Archery Record