Finish to Our Best Year Ever and Expecting Even More in 2013!
Here at Spring Meadows, we can't be happier as the 2012 year closes out with greater success than we could have ever hoped for. It began with a thrilling spring turkey season where our turkey hunting continues to gain more interest and the quantity of birds is growing even quicker. If you are looking for a great Nebraska turkey hunt, please consider us in 2013. Northwest Nebraska is proving to be a hot spot for calling in big gobblers!
The summer of 2012 brought along some challenging experiences and worries as the extreme drought in combination with EHD took its toll on our deer herd just as it did across the entire state of Nebraska. It was very discouraging to watch bucks we have grown over the last 4-5 years along with new up and comers slowly disappear from trail cameras throughout the summer. At the same time, we felt very fortunate to have a good number of mature bucks survive and future trophies conquer these tough conditions. Our 2012 success after a summer like this is a testament that we can only attribute to our strict management and dedicated nutrition program. During the early bow hunting season, we were able to harvest several mature trophy whitetails including a few 6-8 year bucks that have eluded us the last couple seasons. We also had some awesome spot and stalk muley hunts! Take a look at our Whitetail Trophy room pictures to see how great 2012 really was!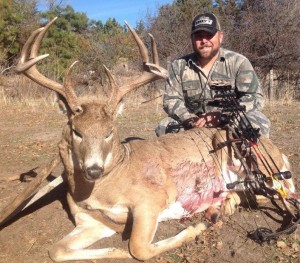 Eight year old whitetail!
The Spring Meadows team entered the rifle season with some excitement knowing of a few good mulies roaming the Sandhills that had been scouted during the weeks leading up to the season opener… but there was still some doubt knowing the tough summer the deer population had experienced. We could have never dreamed of the overall success we would accomplish! Opening day started with our largest buck to date measuring 191 legit inches! This followed by a couple mid 180s the second day… And when we say 180 and 190, we aren't throwing out loose numbers like most, but these are true B&C measurements! Then on the third day, we topped our previous best with a 199″ muley monster! This was a buck we reluctantly passed in 2011 to give another year of growth and in the end, we were glad we did! Spring Meadows at it's best!!
The Big "Kicker" at the end of 2011. Â  Â  Â  Â  Â  Â  Â The Big "Kicker" in 2012. (199″)
All in all, 2012 proved to be our best year ever on record for all species: Mule deer, Whitetail, Elk, and Turkey! And the best part yet is knowing the young bucks we saved to continue to grow our future trophies for continued success! If you are looking for a great hunt in 2013, don't hesitate to contact us now as reservations are filling quickly and we will only keep a limited number of hunts available. Also, make sure to keep Spring Meadows on top of your Elk hunting destinations as you fill out your Nebraska applications. Our Elk hunting resume over the last 3 years speaks for itself, and the quality of Elk will surprisingly rank amoung the best in the U.S.
WHAT'S NEW IN 2013 -Â 
For 2013, we have improved and added an all new fishing destination called "Shaddy Meadows"! Now in combination with our great Northern Pike fishing, Shaddy Meadows will offer superb walleye and trout fishing in some of the most secluded and picturesque areas of the Sandhills.
Email us to enter a drawing to win a 3 day ice fishing trip at Shaddy Meadows guided by 5 time Walleye fisherman of the year, Bob Alcorn! We will be drawing the winner at this years Big Buck Classic!
Walleye fishing legend, Bob Alcorn, after a recent ice fishing excursion at Shaddy Meadows!
We want to thank all of our 2012 clients for the great success and friendship you have brought Spring Meadows and we look forward to working with you again in 2013! We are anxious to meet all our new potential clients and future friends that look to Spring Meadows for their next hunt of a lifetime!